TEMPUS
by Joseph Reed Hayes
A New American Bebopera

The NYC jazz loft, 1940s bebop reinterpretation of Shakespeare's The Tempest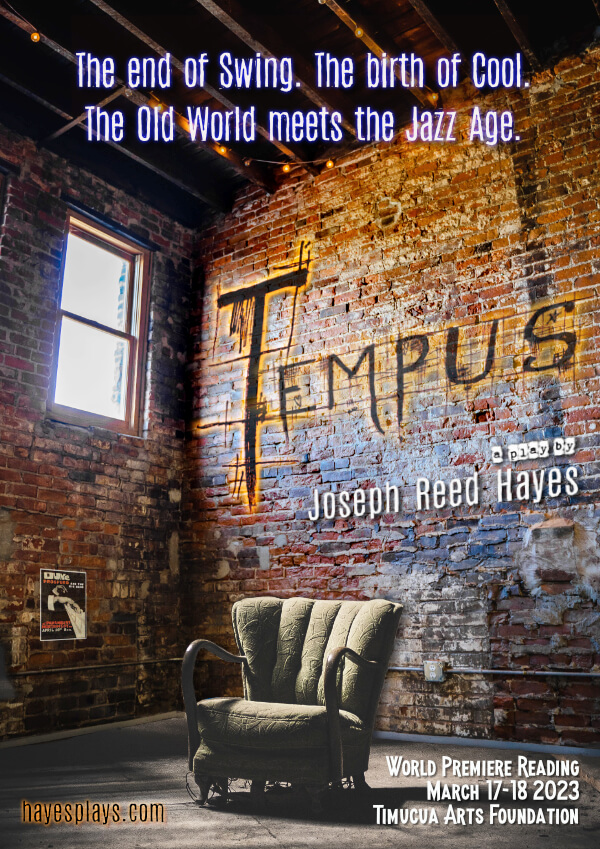 T

he King of Swing has fallen.

The story of "Duke" Prospero, the deposed King of Swing; his rebellious daughter, the zoot suit-wearing, horn playing Miranda; her potential partner Fiona, at the biting edge of bebop and daughter of the rival bandleader "King" Alonso; Prospero's magical muse, the mercurial Ariel, a sprite, a spirit, a manipulator and the best vocalist anyone has ever heard; the rulebreaking sax player Caliban, playing the ordinary in an extraordinary way as a bridge between old and new; Antonio, Duke's brother-in-law, caretaker of the band while Duke was "missing"; Stephen, the insidious dreamer; and Gonzalo, the backstage instigator of a jazz/klezmer amalgam that has been quietly influencing jazz for decades.
TEMPUS: THE BANE OF CALIBAN character spotlight
It is a time when young "bebop" musicians are inventing new ways of expressing the free-dom of jazz, and the old, established big band swing players find themselves being replaced, causing a deep schism. The young, the independent, and particularly the women players start to demand their share of the audience - and a share of the profits. The old guys resist, as old guys always do.
TEMPUS takes its bones from Shakespeare's The Tempest, his last complete work and the most musical, along with decades of research into the history of jazz and klezmer music in America. A story of power and loss; magic, subterfuge and family dynamics, TEMPUS is a reflection of its time, an era of change in social issues, racial issues, women's issues, Jewish issues and a massive evolution in what has been America's popular music: jazz.
Joseph Reed Hayes celebrated his 20th year as a playwright in 2022, marking a career that has included 56 productions and readings of his work across the US and in three countries. Two of the four shows he presented in 2022 included the only double Critics' Choice Award-winner in that year's Orlando Fringe Festival (The Mockingbird News), and If I Had My Way, called "A fascinating mix of contemporary issues about class, race, circumstance and relationships against a uniquely Florida historical background" by the Orlando Sentinel, which bestowed the show two individual Best of 2022 Awards for Best Actor.
THE 2023 READING CAST:

ALONZO — Isaiah Entzminger
ANTONIO —Benjamin Mainville
ARIEL — Erin Brenna
CALIBAN — Stephen Lima (American Academy of Dramatic Arts)
DUKE PROSPERO — Stelson Telfort ("masterful gravity and honest nobility", Orlando Sentinel)
FIONA — Sarah Lockard (Critics Choice Award, Best Individual Performance, Orlando Fringe '22; Orlando Sentinel Best of 2022 Featured Actor)
GONZALO — Bobbie Bell (Winner, Best Director 2017)
MIRANDA — Emilie Scheetz ("Lit up the stage", Orlando Sentinel)
NARRATOR — Jennifer Greenhill-Taylor
STEPHEN — Jim Braswell (Critics Choice Award, Best Male Performance, Orlando Fringe '16)


After readings in 2023, TEMPUS will be developed as a full theatrical stage production, and will also become the libretto for a new American "bebopera", created with Timucua Arts Foundation master Benoit Glazer, sharing the themes and ideas of the play in a unique opera form. This is possibly the first instance of a play and an opera being crafted from the same story for two different productions at the same time.
Looking at just some of the themes in TEMPUS: In a time when young "bebop" musicians were inventing a new ways of expressing the freedom of jazz and their unique talents, old established big band swing players found themselves being replaced, and a deep schism emerged. The young, the independent, and particularly the women players started to demand their share of the audience - and a share of the profits.
Even after the generational changes of the war began to slowly influence society, white and black musicians could not play on a integrated stage (actually true well into the 1960s) – the only place they could mingle and share music was either in after hours clubs or jazz loft spaces in New York, Chicago and Los Angeles.
Jewish musicians who, upon arrival in America, were obliged to learn two new languages: English and jazz, and in the ensuing years added their musicianship and background of Eastern European music to the growing lexicon of jazz.